Headlong into Summer Vegetative Phase
It's been a relatively cool June here by the Maine coast this year but I have a feeling that's all about to change as we rush headlong into July next weekend. The hemp is settled into the ground, getting its roots established in preparation for the tremendous amount of growth a healthy outdoor hemp plant will show throughout the summer.
This is what's known as the "vegetative phase," or "veg" as it's often shortened to. Since hemp is an annual plant, from an evolutionary perspective it's all about reproducing and passing on your genes to next year's generation. And the key to that is getting big, healthy, and come fall full of abundant flowers. So summer is very much a time to put out maximum green growth. I swear you can almost see it from one day to the next at certain times.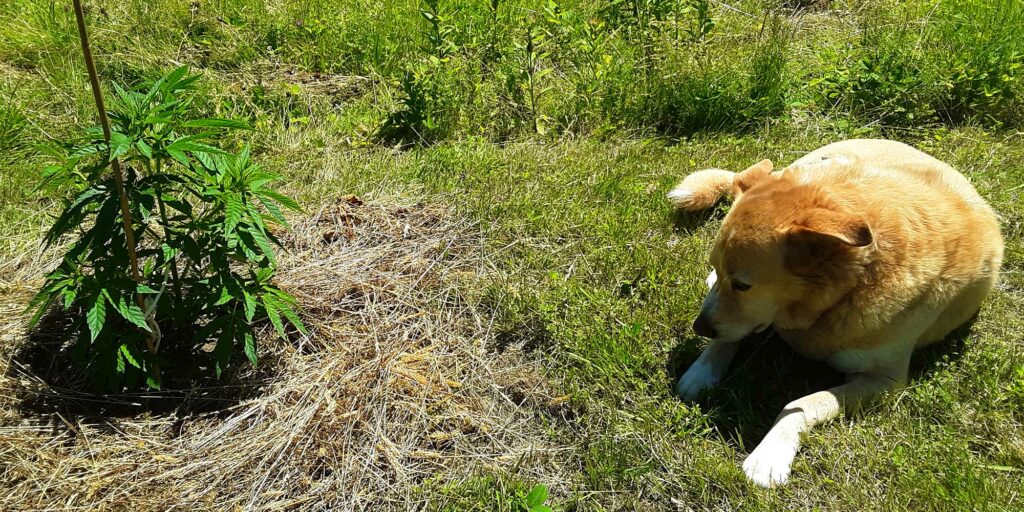 If summer does turn hot, as long as the hemp gets enough to drink and it doesn't get withering hot the plants should do well. They certainly do love the sun. Hopefully we get enough regular rain to keep the soil moist but irrigating from the brook is always an option.
One trick that seems to help with hot weather is occasionally adding a small amount of potassium silicate to their water (you can also foliar spray–discourages leaf-chewing insects). Some research shows that the silica reduces water loss. About 1/2t per gallon is all you need–mix it in warm water first to fully dissolve the potassium silicate.
It's definitely important to make sure the hemp stays healthy through the summer and enters the flowering phase (mid-August) in vibrant condition with no issues. We feed the plants alfalfa meal every 2 weeks or so for nitrogen, plus a little compost, some worm castings, and small amount of kelp meal.
Summer in Maine is short but sweet. Trees don't fully leaf out until Memorial Day and then the nights get chilly again around Labor Day. It's not unusual to see snowin May or September. So these 3 months of glory are well-appreciated. They go by quickly!